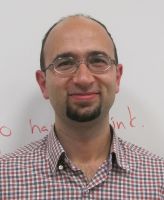 (METU CV)
Background
Assistant Professor, Middle East Technical University (METU)
PhD. University of California Los Angeles, 2000.
BSc Mathematics and EE. METU, 1995.
(more detail)
Research Interests
Algebraic Geometry, Mathematical Physics, Combinatorics.
Contact Information
Office:
Phone: +90 392 661
e-mail: metu.edu.tr
(arXiv list)
Selected Publications/Preprints
(w/ E. Gurel) A note on the products (1k+1)(2k+1)...(nk+1). J. Number Theory 130 (2010), no. 1, 187-191.
(w/ O. Ozturk) Toric varieties and the diagonal property. 2009.
(w/ O. Sarioglu, B. Tekin) Cotton flow. Classical Quantum Gravity 25 (2008), no. 16.
Integrable systems and Gromov-Witten theory. Topics in cohomological studies of algebraic varieties, 135-161, Trends Math., Birkhäuser, Basel, 2005.
On quadratic Poisson brackets. J. Math. Phys. 46 (2005), no. 4.
Polyomino Convolutions and Tiling Problems. J. Combin. Theory Ser. A 95 (2001), no. 2, 373-380.
2021-22 Spring
Schedule
Monday
Tuesday
Wednesday
Thursday
Friday
8:40-9:30
9:40-10:30
10:40-11:30
11:40-12:30
12:40-13:30
13:40-14:30
14:40-15:30
15:40-16:30
16:40-17:30