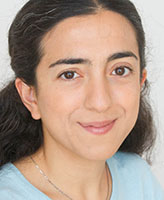 Emel Bilgin
(METU CV)
Background
Ph.D. Universität Duisburg-Essen, 2012.
M.Sc. Istanbul Technical University, 2008.
B.Sc. Yildiz Technical University, 2007.
Research Interests
Algebraic Geometry, Singularity Theory
Contact Information
Office: TZ-30
Phone: +90 392 661 3423
e-mail: bemelmetu.edu.tr
(arXiv list)
Selected Publications/Preprints
On the classes of hypersurfaces of low degree in the Grothendieck ring of varieties. Int. Math. Res. Not. IMRN 2014, no 16, 4534--4546.
2022-23 Fall
Schedule
Monday
Tuesday
Wednesday
Thursday
Friday
8:40-9:30
9:40-10:30
10:40-11:30
11:40-12:30
12:40-13:30
13:40-14:30
MAT 100 (S6)
TAZ-09
14:40-15:30
Office Hours
Office Hours
15:40-16:30
MAT 260 (S2)
TAZ-10
MAT 260 (S2)
MAT 100 (S3)
TAZ-08
MAT 100 (S6)
16:40-17:30
MAT 100 (S3)